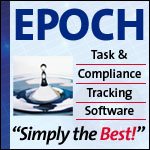 EPOCH Software is a comprehensive time and dollar saving EMIS system for tracking and reporting regulatory compliance with components that include:


Chemical Inventory and Usage / SARA 312, VOC and HAP Emissions
Toxic Chemical Release / SARA 313 Form R
Hazardous Waste Storage and Disposal / Container Tracking / RCRA Reporting
Task Management / Calendar and Email Notification
Permit Tracking / Parameter Limits and Exceedances
Emission Source Monitoring (Air, Water Samples, Ground Water, Storage Tank Inspection)
Environmental Events Tracking / Chemical Spills / Job-Related Injuries / OSHA 300
Audit Tracking (Findings, Corrective Action, Status)
SDS online repository / Web Viewer
Industrial Hygiene Sampling / Personal and Area Monitoring
Compliance reporting features include: SARA 313 Form R (EPCRA), SARA 312 (Tier II), VOC and HAP Emission Reports, RCRA Biennial and Annual Reports, Uniform Hazardous Waste Manifests and Shipping Lists, Land Disposal Restriction Notification Forms, Container Packing Lists, Waste Container Labels, PCB Annual Report, Title V Annual Air Emission Inventory, Discharge Monitoring Report (DMR), OSHA Reporting, and more.
The benefits of using EPOCH as your EHS Software include but are not limited to:
Reduce people time spent gathering data since EPOCH can interface to a variety of in-house systems.
Improve data quality due to these electronic data feeds (minimizing manual data entry).
Less time spent preparing regulatory reports, such as, Tier II, SARA 313, RCRA Biennial, etc., since they are generated by EPOCH.
Minimize or eliminate Notices of Violation by tracking permit conditions on a more timely basis.
Reduce or eliminate outside consulting expenses for preparing monthly, quarterly or annual regulatory compliance reports.
Control costs further by purchasing only the EPOCH modules of interest.
EPOCH software is a complete EHS system for Environmental Compliance Data and Task Management designed to start giving you benefits from day one.